Liberty
Looking beyond the horizons
Where do your horizons end? Liberty will most certainly broaden them.
The view from these new apartments in the throbbing heart of the 'het Eilandje' in Antwerp is not only exquisite, but every time you gaze outside you will feel the breeze lighten your mood and the gentle ripple of the water of the river Scheldt push your imagination far beyond the horizons.
QUAYS
of freedom
The yearning for freedom which has drawn so many adventurers to these quays has been depicted effortlessly in the lines of Liberty. Every contour of the building blends into the water, giving you both the impression of being outside and a feeling of security.
Liberty is located right next to the Red Star Line Museum, which has already become world-famous.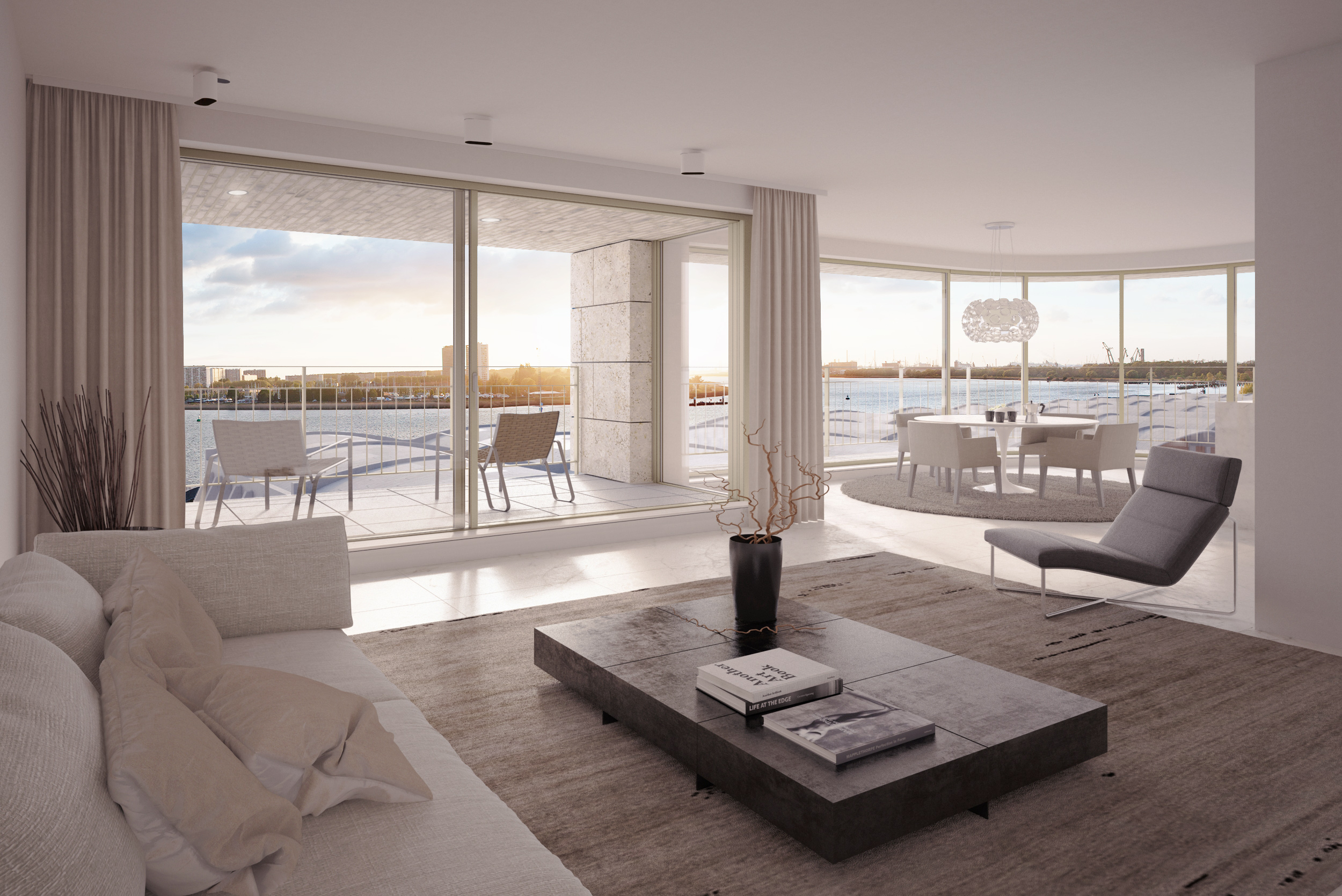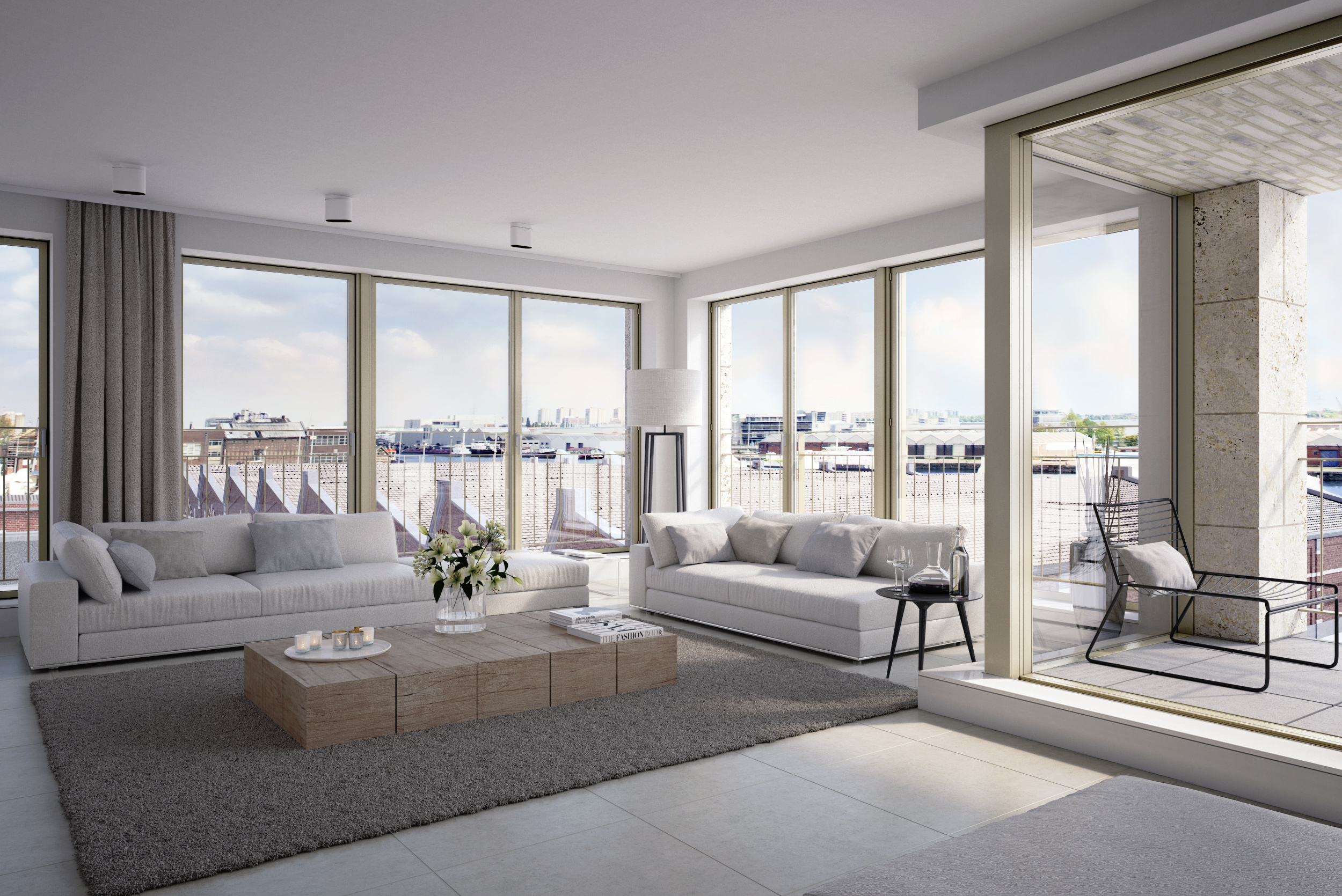 APARTMENTS
At first glance, Liberty not only exudes sheer elegance, but when looking beneath the surface, the passion that has gone into constructing it is perfectly obvious. This commitment is tangible at all times.
The cavity walling ensures an optimum level of comfort, the suspended flooring will dampen the sound of your footsteps, the high insulation glazing means that you won't be wasting any energy, whilst the burglar-proof doors will keep you safe and sound. Liberty has the technology to make your life easier every single day. The solar panels on the roof will reduce the cost of the communal areas.
For the interior décor, we have chosen the most reliable partners, who offer true expertise in their chosen field. The final result is a meticulous finish and a real eye for detail.
LIBERTY OFFERS
FLEXIBLE RETAIL SPACE
with extensive views over the Scheldt, the Red Star Line Museum and a peaceful and green inner courtyard. Large expanses of glass, wide pavements and exceptionally high ceilings guarantee a retail or work experience that is out of this world.
FRONT ROW LIVING
Even though you will enjoy fabulous views, you are living in the most exciting part of town.
Culture lovers will never be bored on 'Het Eilandje'
CULTURE EVERY
SINGLE DAY
The riverside museum "Museum Aan de Stroom" has firmly anchored itself into the hearts of all Antwerp residents.
THE RED STAR LINE MUSEUM IS FAMOUS, EVEN ABROAD.
DURING THE ISLAND FESTIVAL PERIOD, YOU CAN ENJOY BOTH LITERATURE AND LIFE.
Even though 'Het Eilandje' is currently in a major process of expansion, the neighbourhood has not lost any of its former glory.
TURBULENT
WATERS
The docks and the marina still exude that same cosy light that is reminiscent of the Golden Age. A trip outside at night still evokes the sensual atmosphere left behind by the dockers in times gone by. And if you really stop to look, you will still see and feel the power of life along the waterfront as portrayed by the famous Antwerp painter Eugeen Van Mieghem.
Disclaimer
DE VOLLEDIGE INHOUD VAN DEZE WEBSITE IS EIGENDOM VAN OF VALT ONDER DE BEVOEGDHEID VAN BOUW & PROMOTIE RIJNKAAI. BOUW & PROMOTIE RIJNKAAI ZAL ZICH INSPANNEN OM DE INFORMATIE OP DEZE WEBSITE STEEDS ACTUEEL EN CORRECT TE HOUDEN, MAAR DOET GEEN UITSPRAKEN OVER OF GEEFT GEEN GARANTIES INZAKE DE VOLLEDIGHEID, NAUWKEURIGHEID OF GELDIGHEID VAN DE VERSTREKTE INLICHTINGEN EN BEELDEN OP DEZE SITE. BOUW & PROMOTIE RIJNKAAI IS NIET AANSPRAKELIJK VOOR DE INHOUD VAN DEZE INFORMATIE, HET VERTROUWEN OP DEZE INFORMATIE OF VOOR DE GEVOLGEN VAN HET GEBRUIK DAARVAN. AAN DE GEGEVENS EN BEELDEN, ZOALS DIE IN DEZE SITE WORDEN WEERGEGEVEN, KUNNEN GEEN RECHTEN WORDEN ONTLEEND, ZIJ WORDEN VRIJBLIJVEND VERSTREKT, ENKEL TER INLICHTING, ZONDER CONTRACTUELE VERBINTENIS OF GARANTIE VAN ONZENTWEGE. DEZE WEBSITE WORDT VERSCHAFT ALS EEN DIENST AAN DE BEZOEKERS ERVAN. BOUW & PROMOTIE RIJNKAAI BEHOUDT ZICH HET RECHT VOOR OM, TE ALLEN TIJDE EN VOOR OM HET EVEN WELKE REDEN, DE INHOUD VAN DEZE SITE TE VERWIJDEREN, TE WIJZIGEN OF AAN TE VULLEN ZONDER KENNISGEVING AAN OM HET EVEN WIE. * OPGEGEVEN PRIJZEN ZIJN EXCL. BTW, REGISTRATIE, NOTARISKOSTEN EN AANSLUITINGSKOST NUTSVOORZIENINGEN